Intuitive Leverage™

with Vanessa Codorniu
The 8 week intuition boot camp where you will break through fears and leverage your sensitivity into the badass Super Power you always knew it could be! Giving the invisible structure so you can apply it to your life and business now.
Have you always felt that you had a mission to serve the world in a bigger way? Do you feel like your gifts may be out of the mainstream, kinda weird and that you will not be able to thrive financially if you follow your bliss?


Do you get drained by others issues and emotions? Heck, do you get drained by your own life? Do you have an uncanny sense of "how things should be" for others but get caught up in not feeling ready or good enough to really work it to your advantage?


Do you know that you are here to be to do good in a big way but don't know how to leverage your unique talents and skills in way that includes your true calling AND financial well-being?


And perhaps the biggest question of all: does your own intuition scare you?
I have suffered from all of that and more as I tried to understand my gifts so I could stop hiding them and let them fuel my true calling.
Understanding and owning my gift as led me to thrive in my soul-based business and follow my inner guidance to a life that I only dreamed of before. I became a respected and successful intuitive in two languages, get paid to make huge impact in people's lives while I travel and work from wherever I want.
If you're anything like me, you will totally relate to the pain of having a sensitivity that can feel like a detriment rather than the true advantage it is!
I have gathered these key secrets from my own life's adventure, doing thousands of intuitive sessions worldwide and from teaching hundreds to understand and use their intuition in life, health and business.
What I will share with you in this intuition boot camp are the secrets that took me from an overwhelmed Empath to a thriving intuitive entrepreneur, making a mark in the world in my own way!
I will be sharing the key secrets that totally transformed my life so I could fully step into my purpose and share my gifts with the world.
Where once I felt split in two; my regular, corporate world life and my "real" life, where my passion for assisting others to shine took the form of intuitive work, spirituality and healing... I now have ONE very full life. I feel empowered to create and share what I love with the world by just BEING MYSELF.
Being myself has gotten me speaking engagements, writing assignments, clients all over the world and trainings here and in Latin America.
By leveraging my intuition as my greatest ADVANTAGE, I don't dream about the life I want, I now live it.
You can't harness what you don't understand. You can't rely on what you don't trust. That's why most women don't rely more on intuition on a daily basis.
Intuitive leverage™ creates a structure for the invisible and helps you access your inner knowing with practical applications so you can create tremendous freedom, abundance and joy while you serve the world with your deep gifts.
In the Intuitive Leverage 8 week intuition boot camp, we'll break through fears of visibility and transform your sensitivity into the badass Super Power you always knew it could be.
I will be sharing the KEYS to how I went from heartbroken, sick, and feeling like I wasn't living up to my Soul's purpose to leveraging my inner guidance to do what I love, with people I love and wherever I want.
Gone are the days of feeling sad and overwhelmed at a job I didn't belong. Guided by my intuition, I've taken my seemingly weird talents and created a successful niche for myself!
From March to September 2013, I spoke at 16 different LIVE events to both American and Latin American audiences! I lived and taught classes in Panama three times in 2013. I've taught hundred of men and women to connect to their intuition and work it to their advantage. I've created the Urban Priestess Mastery and ushered a circle of women through an intense 9 month mastery program.
The Advantage that saved my life...
In 2010 my doctor told me that I huge fibroid tumors and that most likely my uterus had to go. My life would never be the same.
Tears ran down my face as a doctor told me that I was, "70 % fibroid" from hip bone to hip bone. Every doctor I saw tried to convince me to have a hysterectomy.
Shamans and healers, pulled back in fear when they touched my 6 and a half month pregnancy fibroid belly. They told me to do "whatever the doctor tells you! This is too much for us to deal with." I was disheartened.
As an educated woman, I did research on every technique and alternative method available.
As a woman with a condition, I was very affected by my partner, friends and family begging me not to be stubborn and to do what was right.
As a trained intuitive, I connected to my inner guidance.
She said, "You can keep your uterus. Keep looking. Don't stop till you find the doctor that can save your uterus."
I moved forward with the guidance. I would not have my surgery until I found the right doctor. Interviewing 10 doctors in two years... the 11th one said as she looked at the mass of fibroids and at my tear-stained face, "I got this. I got you."
Surgery went longer than they had thought. Instead of five tumors, I had 20.
As I regained consciousness after surgery, she said smiling, "Aren't you going to ask me?" I said, "I know. Thank you, I know. Thank you for saving my uterus."
My doctor said that in 30 years of surgery every woman had asked if they still had her uterus as soon as they could speak. I hadn't. I didn't need to. I already knew.
I was born this way -- just like you were.
At 16, my parents blindfolded me and turned the Ouija board around that I was using. Suddenly a new world opened up as I described people I "saw" and messages I "heard." It went from feeling information to seeing and hearing. I started doing sessions but soon stopped claiming that "I lost my powers"... I didn't know what I was doing, just that I could do it.
At 19, I wrote the Universe a letter and asked to be a channel for inspiration and healing. I found out when you raise your hand in God's classroom, you are IN! My guides showed up in full force and books, information and tapes seem to make their way to me.
In my early twenties, I was so empathic, that I couldn't go to nightclubs though I loved to dance. I felt the feelings and energies around me, and it overwhelmed me.
I had a connection but didn't know how to really step up in a way that really served me.
I started doing professional intuitive readings in my early twenties then hiding out for days after a gig. I was and am what I call an extroverted loner. I am great with people yet needing extensive alone time.
I knew I needed to get past my fears, so I explored and did all sorts of trainings. I became an initiated priestess, a clinical hypnotherapist with the Hypnosis Institute and a reiki master/teacher among other certifications. I finally discovered how I could keep my empathic abilities flowing and keep myself healthy and energetic!
I went from not being able to go to nightclubs in my early twenties, to working TV and nightclub events with ease. I was walking through crowds of 800 to over a 1000 people a night AND I wasn't drained!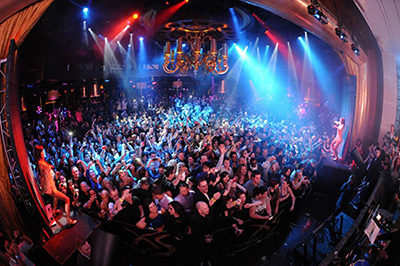 And that's only the beginning.
Introducing
The 8 week intuition boot camp where you will break through fears and leverage your sensitivity into the badass Super Power you always knew it could be! Giving the invisible structure so you can apply it to your life and business now.
8 unique content-packed pre-recorded modules flying directly to your inbox every week. ($1800 value)


4 LIVE group calls for laser-focused, intuitive guidance & specialty explorations with me ($1300 value)


Private group forum on Facebook for ongoing support from your fellow intuitives ($300 value)


Powerful community with fellow seekers, visionaries and intuitives who are out to serve the world in a big way.
Enroll Now!
SPECIAL OFFER $497 for the next 48 hours.
Save $200. Intuitive Leverage is normally $697.
SPECIAL OFFER - Pay Now in Full
Total: $497 USD
Sign up for our Special Offer and save $200!
BONUS:
Two interviews with the most badass, successful intuitives I know. ($1400 value)
A 1 hour intuitive session with yours truly for the ~first 5 people who sign up with full payment ($225 value)
My book, Set Your Intuition free, for everyone who enrolls.
---
Session Begins: November 9th, 2015
Session Ends: January 13th, 2016
Four LIVE Calls: Wednesdays at 8pm to 9:30pm EST
Class Dates: November 11th, December 2nd, December 16th, January 6th
You can send questions/thoughts through email so they can be addressed and you will receive
recordings of the live call.
---
| | |
| --- | --- |
| | Module 1: SUPERSHERO/SUPERHERO: In Module 1, you'll explore the ways your intuition works; tap into the gifts you already have; and begin using them to your advantage. Through custom exercises and group activities, we'll discover how intuitive you already are. |
| | Module 2: DRAGON DANCER: In Module 2, you'll explore how fear works, how to transform and work with it. This is at the core of what has been keeping you stuck or small. Through powerful hypnosis support and exercises to transform your limiting beliefs you will begin to step into more courage and freedom. Once you get this piece, everything else starts to fall into place! |
| | Module 3: ENERGY HEALER: In Module 3, you will learn to manage your intuitive sensitivity, real world stress and deep change. Master top secrets in energy management so you can keep your empathic abilities open and as you remain balanced and safe. This will change the way you feel and improve how you show up in life and business. |
| | Module 4: PAST LIFE TRAVELER: Uncovering and understanding the patterns, beliefs, talents and karmas thru Past Life regression hypnosis exploration. How can we make the most of our experiences and apply them to our lives now? |
| | Module 5: VISION SEER: In Module 5, you will discover clairvoyance: what is it, how it works and how to develop this ability. Learn remote viewing (the ability to see a scene when separated by space or time) thru case studies and real-time exercises so you can feel more prepared for business and life! |
| | Module 6: GUIDANCE WHISPERER: In module 6, you will learn clairaudience: what is it, how does it work so you can work with your Higher Self and your guides more effectively. We will work with the dialogue process so you can apply powerful intuitive guidance into your writing, relationships and business projects! |
| | Module 7: MESSAGE MEDIUM: In module 7, you will explore mediumship (the ability to become someone or something else and experience the world thru their eyes), precognition (the ability to move a person or event in time and accurately describe what can happen), Telepathy (the ability to receive and send messages from a distance.) You will become savvy in practical application so you can do what you love while changing the world. |
| | Module 8: MANIFESTING ALCHEMIST: In module 8, is all about using your intuitive abilities so you can manifest life on your terms. Focus is on a do-able plan of action so you can use your unique gift to create the business, relationship, health or art that you are wanting to experience. Creating a guidance map so you can get your joy and abundance ON! |
Four LIVE calls may include:
Open Q & A intuitive guidance call
Group Past life regression & intuitive guidance
Shamanic training & intuitive guidance
Working with your guides & coaching
---
Susan Lander
Author of the book Conversations with History: Inspiration, Reflections and Advice from History-Makers and Celebrities on the Other Side.
Susan Lander is a lawyer, writer, and psychic medium who spent 20 years in the legal field before transitioning to a career honoring her very special gift: the ability to communicate with spirits. A lifelong clairvoyant and a message medium, Susan is able to see, hear and feel spirits, and to transmit their emotional messages from the Other Side. Using her unique combination of psychic, analytical, and teaching skills, Susan has led hundreds of seminars on the topics of spiritual and psychic development, leadership, law and public speaking. She lives in New York City.

Fearless Leadership & Visibility

When it comes to doing your great work in the world, Lisa Fabrega has a simple philosophy - every time you hold back, self-sabotage, and keep yourself from stepping into the leadership you know you were born to embody, you are affecting the fate of the world, because you are removing a key player that assists in its evolution - YOU. As a truth-telling coach, writer and an innovator in the realm of leadership, she has devoted her life to helping people unleash their inner Gandhi, Mother Theresa or MLK's (or helping ordinary people achieve extraordinary things) so that they can make a powerful impact in the world.

One client described her as her "Courage Curator" while another declared her to be "the secret weapon for the world's next great thought leaders".

Her poems, essays and musings can be found on bentlily.com, Medium and Inside The Jungle Magazine. She has also been featured in CNN, Sports Illustrated and as a guest blogger on LauraRoeder.com.

When she's not helping people ignite their own revolutions in the world, you can find her traveling the world in search of epic nature views and watching the sunset with her laptop in one hand and a piña colada in the other.

Release all of the things that are holding you back from stepping into the next level of your leadership and ignite the spark that will help you unleash you revolution at www.lisafabrega.com.




You will be able to harness your innate abilities so you can leverage your intuition to your advantage!
Some Love for Intuitive Leverage
This course is mind blowing on so many different levels!!! At first, I felt like a "novice-way-in-over-my head-I don't belong." But I trusted Vanessa and did the modules, assignments and live calls and appreciate that the recordings are always there to go back to. I was so in awe (intimidated) by the talent of the small group of loving, engaging and supportive intuitives who were instrumental in affirming and nurturing my intuition. The partnering up with the other students and remote viewing exercises were totally rad!




Haunani Kekuna
Intuitive Leverage with Vanessa Codorniu is the clearest, most practical course in intuition development online that I have experienced. Even as a seasoned intuitive, I found it to be a truly useful refresher packed with new information based on firsthand research and innovative and clearly explained exercises.

I would recommend it to anyone whether they are starting out or are looking to expand their skills, as it offers an outstanding foundation to anyone wanting to access deeper awareness for personal development and empowerment.

Vanessa is a profoundly gifted intuitive and priestess with a lifetime of practice and experience, and teaches from the heart with excellence.

Unlike many online courses, this one was filled with very active participants receiving tremendous individual attention from Vanessa, who's capacity to answer any and all questions regarding personal intuitive experiences and questions is unparalleled.

I'm so glad I had the opportunity to experience her work, and will recommend it as the number one course to take for anyone desiring a strong foundation for intuitive development. Fun, informative, experiential, and personal...I cannot say enough good things about it.

Oceana LeBlanc Spiritual Relationship & Fulfillment Expert, Tantric Yoga Teacher, Shaman, and Writer
We all have this amazing power called intuition. Most of us have enormous fears, blocks and confusion on how to use it. "Intuitive Leverage" teaches you to face your fears, get beyond the blocks and learn what I think is the most important lesson, to trust your inner voice and guidance. I HIGHLY recommend this program to anyone who wants to know how to unlock their fear and live their life with courage knowing they're following the right path.

Danielle Gordon
Marketing Muse & Badass Mom
Literally haunted, my entire life, by a noticably effortless intelligence, an intensely deep and colorful emotional spectrum and a confidence that would both guide me toward success, yet away from the crowds, I was literally aching to find the clarity of Vanessa's INTUITIVE LEVERAGE program when I did.

Reframing my life experiences in these terms allowed me to finally begin seeing, feeling & using my unexamined, and veritably unpracticed intuitive abilities for what they are, instead of what they seemed to become through outside interpretation.

Vanessa's clear methodology of "giving structure to the invisible" is absolutely key when learning to interpret your own, personal abilities to access knowledge beyond your "learned mind." With lots of class participation, we learned to bear witness to each other's sensitivities in action!

Additionally, my previously instinctual needs to "cleanse," to wander in the wild, to eat what I, or another, has prepared with love and, most of all, to give of my joy in all directions were confirmed by Vanessa's platform.

In the past, taking care of myself was not a "permission-based" activity. The program verified that my "default settings" for self-care were actually necessary, and demonstrated to me that actively enjoying my life actually gives rise to better languages for sharing one's awareness and being a loving, creative force in the world we share.

Daniel P
CEO & Creative
This is not for you right now if:
If you are truly a Muggle and can't imagine any of these magickal antics going on! Though I suspect that you might not even be here if you were a REAL Muggle you wouldn't be here at all. Magick lies in your soul dear one...
You are heavily invested in being the sensitive intuitive who can't deal with the world and truly doesn't want to.
Are not willing to invest time and resources in developing the confidence and trust that can guide you for the rest of your life
You aren't willing to take a deep dive and seek the treasures of transformation.
You think I will wave my magic wand and, "POOF!" Transformation abounds. In other words you don't want to do the work required to truly shine in your own right.
You don't want to allow, seek or explore your intuitive gifts. You are interested in being told what, when and how...
You don't like to be supported by a community of kindred souls on a similar journey
This is for you now if:
If like Sookie Stackhouse from True Blood, you are tired of hearing everyone's thoughts. You'd love a way to keep the Super Power and drop the emotional soul drain of being ON all the time!
You hear feel your heart expanding with desire and a wanting to really be all that you can BE.
You want your inner compass on course and how to intuitively course-correct so you can handle anything that comes your way.
You are ready to understand, explore and own this inner guidance that you've always known was with you!
You are ready to release the experience, fear or belief of what being a sensitive or intuitive person means.
You are ready to up your amp up your confidence, step up your purpose and make more money while feeling great doing it.
You are wanting a community of kindred spirits and intuitive seekers to play with and bounce off experiences with! You are tired of muggles that don't get it.
Enroll Now!
3 Payments of $232.22
FAQs:
What if I need 1-on-1 support? The LIVE Q & coaching calls are to give you 1:1 support. Remember that listening in to others questions helps all of us. You can ask on the call or email me the questions if anonymity is desired.


Will you do this again? Possibly in the early Fall but I cannot guarantee same price.


Is there a payment plan? Yes, total price is $697 and 3 installment payments are $232.33


How many people will be taking the class with me? Number fluctuates but can be 10 or more participants. In this case if numbers are higher the more exercises we can do with strangers to develop our confidence.


Are the calls recorded? 8 pre-recorded, 4 live calls and 2 pre-recorded guest calls. The live calls will be recorded as well and delivered to your inbox.


Will the class materials be available after the class ends? All class materials are directly available to you and you will be able to keep them.


What if I can't make the group calls -- can I e-mail you? Yes you can email questions that can be answered in you absence and you will receive recording.
Some Love for Vanessa
Working with Vanessa is like having the whole of the universe on speed dial. Phenomenal cosmic power...itty bitty priestess-woman!




Kristen Kalp
Vanessa is a force of nature. She is incredibly intuitive, but what is most compelling about her work is that she teaches us to connect more deeply with our own intuition. Like teaching a man to fish, she allows us to become our own healer and guide.




Nisha Moodley
Fierce, Fabulous and Free
Vanessa has an exceptional gift. If you have questions, are seeking guidance, or just want to connect with a force bigger than yourself, you absolutely MUST speak to this modern wise woman. Absolutely amazing.

Liz Alton
Indie Blue Media
Literally just had my mind and heart completely blown by the intuitive brilliance of Vanessa Codorniu. Holy sh&t. You are BRILLIANT, Sister. THANK YOU, deepest gratitude for the session and can't wait to work more with you, Goddess!

Lisa Fabrega
life detox coach, a truth-speaker & writer
Vanessa has such a powerful vulnerability- a capacity to hear and to trust the information she is receiving from spirit. The depth of my healing at Vanessa's mystical hands was profound. She is a gorgeous soul and holds deep medicine with her gift of intuitive healing.

Meggan Watterson
Founder of REVEAL, Hay House Speaker+Author
Vanessa is a wonderfully gifted intuitive - no question is unanswerable, and no concern is left unmet. All of my experiences with her have been transformative and haveprovided me with deep insights, full of nuance and richly textured. She has been an invaluable treasure on my spiritual journey, and I cannot thank her enough.

Rev. Kandace Simmons,
Spiritual Strategist
Vanessa is a true gift. She is a wise woman of many talents, grounded in serving with passion and integrity. I have experienced sessions with Vanessa for intuitive readings, past-life regression and hypnotherapy and have benefited tremendously from all to heal and tap greater into my own understanding and intuitive guidance as it relates to my career, relationships and deepest desires. Vanessa is a powerful combination of both strength and subtlety. As both a teacher and friend, I am grateful to have her in my life and community.

Tisha Lin,
Creator of Pleasurable Periods +
AADP Certified Holistic Health Coach
Vanessa is a pure channel for Spirit, there is no other way to say it! During my first session with her, without so much as asking me a question, she was able to accurately portray the events of my life, while giving me deeper insight into them. Her grace and kindness during the session was also a beautiful bonus. I would definitely recommend working with her to anyone who is ready to live their life in a bigger way.

Beth Watson,
Waves of Fire
Vanessa gave me such keen insight that I wasn't able to see for myself. I am a very intuitive person, but was IN it, and could not access the clarity I needed to move forward, and beyond the challenges I was experiencing. With her help, I was able to move forward, and actually spring far ahead in my personal and spiritual growth. Thank you from the bottom of my heart, Vanessa, xo.

Gina Knepell,
Intuitive Calling Masterwork, Whole Life Detox & Transformation